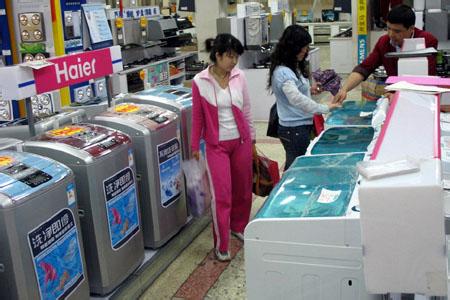 Recently, in the sampling results of several major categories of home appliances such as refrigerators, air conditioners, washing machines, electric fans, and water heaters, the failure of energy efficiency grades is the most common phenomenon, involving multiple brands in multiple categories, among which small and medium Brand-based.
Virtual standard energy consumption due to the sale of interests
<br> <br> the third quarter of this year, AQSIQ had taken Shanghai, Jiangsu, Zhejiang, Anhui, Jiangxi, Shandong, Henan, Hubei, Hunan, Guangdong, Shaanxi and other 11 provinces 90 batches of refrigerators produced by 89 companies in municipalities directly under the Central Government. Among them, among the nine unqualified companies, seven companies failed to include the "energy efficiency rating." The company names involved include Jiangsu Green Electric Co., Ltd., Zhejiang Huamei Electric Manufacturing Co., Ltd., Ningbo Haotian Electric Co., Ltd., Beihai Kelonchuang Electric Co., Ltd. (manufacturer, production company Cixi Gold Coast Electric Co., Ltd.), and Cixi City. Huiri Electric Co., Ltd., Ningbo Jinshuai Group Co., Ltd. (manufacturer, manufacturer of Zhangzhou Jinshuai Electric Co., Ltd.), Zhongshan Kaide Electric Co., Ltd.
In terms of other categories, among the domestic solar hot water system products, there were 7 companies that failed the product spot checks, of which 2 were involved in the energy efficiency rating; in terms of air conditioning products, 1 company also involved energy efficiency grade issues.
Liu Buchen, an industry observer, believes that virtual energy consumption levels have become unspoken rules in the home appliance industry. Generally speaking, the higher the energy efficiency level, the higher the price of the product, and in the products with little difference in price, the energy efficiency level has become an important indicator for consumers to buy, "this is behind the sale of benefits."
According to China's "Energy Efficiency Labeling Management Measures", the energy efficiency labeling system adopts the "production or importer self-declaration, filing, and the government departments to strengthen the supervision and management" operation mode. This kind of self-disciplined "self-examination" approach is convenient for enterprises, but it also leaves room for some companies to do things.
AC Contactor switch mainly used for making or breaking circuit at a long distance, suitable for controlling starting\stopping\reversing of AC motor. AC Contactor of korlen conforms to the requirement of IEC60947-4-1& GB14048.4 standards.
Except AC Contactor, there are many different types of low voltage electric appliances, such as Thermal Relay,Manual Motor Startor ,LED Light, Circuit Breaker, etc.
AC Contactor
AC Contactor,Magnetic Contactor,Wafer Style Valve
Wenzhou Korlen Electric Appliances Co., Ltd. , https://www.korlenelectric.com